PICASSO PART TWO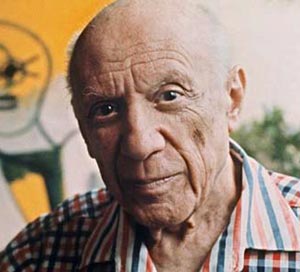 Pablo Diego José Francisco de Paula Juan Nepomuceno María de los Remedios Cipriano de la Santísima Trinidad Ruiz y Picasso
This was the full name of Pablo Picasso when he was born in Malaga, Spain in 1881. On our second afternoon at his villa in Mougins, France, he wrote this down for me because we had engaged in making fun of the long names of some aristocrats still holding sway in the casinos and beach resorts of Europe.
"I was 33 years old when those titled (expletive deleted) started World War One in order to hang on to their empires and monarchies. Later my work up to this point was broken down in 'periods', from Blue to Rose, the African, Analytic Cubism and Synthetic Cubism. I knew nothing of this then because I simply lost interest in a particular style and begun to experiment with something new. Most of my 'periods" cannot really be defined by specific time frames or events, they segued into one another, often seamlessly, at other times because I simply lost interest. I was also keenly aware of what sold and had enough sense to keep back a lot of my work in case of a resurgence of interest or to flesh out a new exhibition of older work".
"How many paintings did you do until now?" I queried.
"It is not just the paintings, it is the ceramics, sketches, lithographs, copper plates, sculptures and other experimental work. All in all, about 50,000 pieces but I still have more than 2,000 that few have ever seen and right now I am working on a new series as well. Last year I did the sculpture for Chicago..."
Chicago Picasso at Daily Plaza, installed 1967
We left the studio and went for wine and finger sandwiches on the patio. On one side of the terrace, a massive grape arbor shaded the flagstones and was hung with large deep red fruit.
"May I try one?" I asked. "I recommend against it" grinned my host. This is pure vinegar". Of course I had to try a grape but he was right. While bursting with juice, the grape was sour.
"It is mostly ornamental but we use it for a pretty dramatic salsa.
On the lawn Tamara was showing Jaqueline some dance steps and suddenly Picasso took one of his ever present sketch pads and begun to draw. Within minutes he had created six charcoal sketches of Tamara in various poses, over emphasizing eyes (looking heavenward) and her legs (twisted together).
"You can have those" he said and tossed them across the table and now I can explain the title of part one of this story:
"Don't ask me to sign them" he uttered. "I like you but I am not going to make you rich".
And there you have Picasso as we met him on those wonderful fall days in the South of France: A kind host but inscrutable, a man who would carefully measure his words but who had built an impregnable wall around himself, a wall that contained Jacqueline and a few selected friends and his work; Above all his work. New pieces show up to this day, the law suits and squabbles of his two children linger but in the end he won and will forever be remembered as one of the foremost artists of the 20th century, a man I had a short three days to meet almost one half century ago.
Wikipedia:
Pablo Picasso died on 8 April 1973 in
Mougins
, France, while he and his wife Jacqueline entertained friends for dinner. He was interred at the
Château of Vauvenargues
near
Aix-en-Provence
, a property he had acquired in 1958 and occupied with Jacqueline between 1959 and 1962. Jacqueline Roque prevented his children Claude and Paloma from attending the funeral.
Devastated and lonely after the death of Picasso, Jacqueline Roque killed herself by gunshot in 1986 when she was 59 years old.