"I like you but I am not going to make you rich". Pablo Picasso, October 1968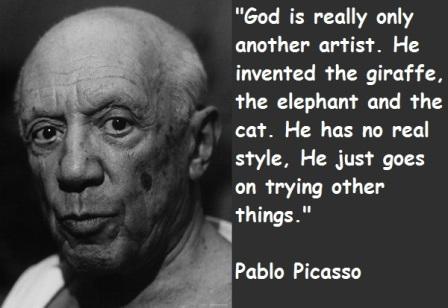 "My work has always been parsed into 'periods' but if this were so, God had his creative periods as well. On the first day He created the heavens and the earth...I call that His 'blue period' mused Pablo Picasso on the rear terrace of his home

L'Antre du Minautore in Mougins, France on Friday, October 11 1968.
Tamara and I had arrived at noon, escorted by a representative of a Mougins gallery favored by Picasso, a gentlemen who had been instrumental in helping me to secure an interview with the greatest living painter of that time. We had flown to Cannes and had rented a fine Peugeot for the drive to the coast.
Mougins is a commune in the Alpes-Maritimes department in southeastern France. It is located on the heights of Cannes, in the district of Grasse. Mougins is a 15-minute drive from Cannes.
We had been welcomed by an elderly woman who was either a friend or a housekeeper. We were never to find out because she only spoke Basque and just enough French to get whatever anyone wanted, but she was somewhat ever present. The house overwhelmed us and we felt like we were trespassing at the Vatican archives until some large dog of unknown provenance greeted us with great enthusiasm and was soon followed by Picasso's incredible wife Jacqueline Roque who welcomed us with the traditional French air kisses and a smile that could melt ice bergs. "I love having visitors" she grinned at Tamara, followed by "You must be uncomfortable with your travelling clothes. Come, let us get you into something comfortable". I felt a bit sheepish, standing there in the large entrance hall and wondering how Tamara could find something "more comfortable" since our bags were in the Peugeot. Enter the aforementioned factotum, bearer of a large pitcher of Sangria, a tray of glasses and a "follow me" gesture. I did and was led to a shaded terrace, beautifully landscaped and with a view over the Mougins hills. The seats were brocaded wicker and I just parked myself and hoped someone would notice me eventually. They did: Tamara and Jacqueline re-emerged, my wife wearing a low cut white linen dress and a large straw hat, her new companion had on a lovely full length calico dress and a massive necklace of sea shells. And then came Picasso!
"I had to find a shirt" he explained. "She" he grinned "makes me wear a shirt when there are guests in the house". This was the first of only a few occasions over the next three days that I did not see the master bare chested...
Photo with permission of Galerie Picasso, Mougins
Thankfully I had dressed in a comfortable short sleeved shirt and lightweight pants otherwise I would have felt more out of place than I already did.
"So, what brings you here?", inquired the Man. I had begun to ask myself the same question just then but thankfully was handed a frosty glass of Sangria which gave me a few minutes to try to compose an answer but before I could even attempt one, was handed a pack of Gauloise cigarettes, unfiltered. Picasso lit up and so did I (I smoked like a chimney then...)
And so it began. Picasso was not really interested in the reason of my presence, Tamara and I were entertainment for him, a new stage to orate on, a new canvas to experiment with, a ritual observed with unfailing gallantry and the kindness you might expect from an older uncle. I had fretted over possible language barriers. Not to worry. Picasso spoke some German, a passable English and Italian, Tamara had a solid Spanish and Jacqueline a polished English so even if we jumped words from language to language, the narrative was never lost or misunderstood.
"We should check into the hotel" I finally stated, interrupting Picasso who had been animatedly discussing ballet with Tamara.
"Nonsense", I was hushed. "We cancelled your reservation and have a room all ready for you. "Why don't you go and unpack and meet us here whenever. We spend a lot of time on the terrace either here or on the covered patio out back".
"I want to hear more about ballet in Russia" he told Tamara. "She", he gestured to Jacqueline "has been trying to teach me".
Old factotum led us upstairs to a beautiful large room with a massive French four poster bed, a view to die for and impeccable white walls on which hang at least a dozen of Picasso's paintings and framed sketches. I felt like I was in a museum but Tamara had no such worries. Someone had brought our bags from the car and she tended to the domestic side of hanging and storing clothes and putting our toiletries into the bathroom where all the towels had some Picasso painting printed on them. Sheer magic all that!
Tamara kept the linen dress on and I changed into a comfortable Polo shirt and we traipsed back down and found everyone where we had left them with the addition of the gallery representative who had guided us here.
"Jacques Marchand" will give you a tour of Mougins tomorrow morning" explained Picasso. "I am useless until after lunch and every time I walk through town I get accosted by tourists. I am happier just to be here and I have some glazes to select in the morning". With that he abruptly stood up and said "I see you at table at six, I need a nap".
We all stood deferentially. "He is entitled" smiled Jacques, "After all he is 87 years old".
"How old is Jacqueline" asked Tamara to my dismay but Jacques was unfazed by this. "She turned 39 in February" he explained "but those two are timeless. Sadly, Mme Roque committed suicide at Mougins almost exactly 19 years after we met her, on October 15, 1986, 13 years after Picasso's death in 1973.
One of more than 300 paintings Picasso did of Jacqueline.
The main entrance of the Picasso home



We spent the next two hours walking around the grounds and into the outskirts of town. In the garden were a number of potted plants in beautiful urns and vases, possibly priceless even then and representative of an earlier period of Picasso's work.
"Are you intimidated yet?" asked Tamara. "Actually no", I answered truthfully. "In dad's house I met some self important arrogant bores, I have interviewed people who thought they were so high and mighty. He is nothing of that. he is an old man who knows that there is nothing more to prove to anyone and he seems comfortable where and who he is".
This is a recent photo but the dining room looked just like this - just more lived in.
I was happy to see Jacqueline when we returned. "How do we dress for dinner?" I queried. "Just stay the way you are she giggled. "We will be lucky if he does not show up in a toga or an old painters smock". He did not, he had put on some baggy corduroys and was bare chested and had paint splatters on his left arm.
"Do you like lamb?" he asked but did not wait for an answer because he got busy filling glasses with red wine previously decanted into a crystal carafe. "This is good wine" he explained "I get a case of it every month delivered from Malaga"
The wine was fine, the lamb divine and the side of spicy Catalan sausages pure ambrosia.
"I have read some of the stories you sent to my agent" Picasso told me. "Not bad for a young man". Tomorrow I show you some new work .
I shall quote Wikipedia on this subject:
Picasso's final works were a mixture of styles, his means of expression in constant flux until the end of his life. Devoting his full energies to his work, Picasso became more daring, his works more colorful and expressive, and from 1968 to 1971 he produced a torrent of paintings and hundreds of copperplate etchings. At the time these works were dismissed by most as pornographic fantasies of an impotent old man or the slapdash works of an artist who was past his prime.
Only later, after Picasso's death, when the rest of the art world had moved on from
abstract expressionism
, did the critical community come to see the late works of Picasso as prefiguring
Neo-Expressionism
Self portrait facing death (1972)
I shall fast-forward here before everyone who reads this thinks of me as a doddering old idiot living in the rosy memories of a long ago time but in the end, what have we really got than memories, good and bad. It is valuable to remember who we were and where we had traveled in order to face that which is yet to come.
Saturday morning was rainy and damp but Jacques picked us up and showed us the town with its ancient buildings, the many galleries and cafes. We enjoyed a good breakfast of stuffed croissants and cafe-au-lait, but I longed to get back and we thankfully did just before noon where I found Picasso in his crowded studio peering into a large kaleidoscope. He handed it to me, urging me to look into it. The colors and the rapid changes when moved had always mesmerized me.
"I wish I could paint like that" murmured the painter. "If you look at my paintings you will often find the primary colors or combinations of colors you can find in the tube of glass you hold in your hand but I cannot give it the motion or the subtle nuances that take place when the light changes".
TO BE CONTINUED TOMORROW
Sorry, my eyes are giving out, I have to walk my dog and plug myself into some nourishment. A feeding tube has replaced real food but the scent and taste of Catalan sausages still lingers...